Problems with your vehicle? We can help.
Call our York Roadside Assistance team now on: 01904 767675
As soon as you call us you're well on the way to safety – our experts will quickly establish what's wrong with the vehicle and transport it back to our garage, safe and sound. We charge a flat recovery rate of £60 within York's Outer Ring Road; rates for recoveries beyond the Outer Ring Road may differ.
4 steps from breakdown to safety
Vehicular breakdowns are an unfortunate fact of life – they happen to us all. Adhere to these simple steps to allow us to retrieve your vehicle as quickly and safely as we can.
1. Find a safe place to stop.
If at all possible, you need to get your vehicle out of harm's way at the first opportunity. If you can make it to a parking space at the roadside, that's perfect; if not, get as far over to the side of the road as possible and turn on your hazard lights. Do not wait inside the vehicle.
2. Call us on 01904 767675
Now your vehicle is as safe as possible and out of the way of other motorists, you can breathe a sigh of relief and call our number – the worst is over! We'll discuss your problem over the phone and let you know an estimated response time. Be prepared to discuss the symptoms of your breakdown – especially anything unusual you've noticed whilst driving recently.
3. Wait close by in a safe place
Now's the time to find a safe place to sit and calm your nerves. Look for a spot where you can sit, within view of your vehicle and well out of the way of other vehicles. At this point you should also check your passengers are okay. We need you to stay close enough to your vehicle for you to be able to greet us in person and grant your permission for us to transport it to our garage for repairs.
4. Recovery and repairs
Once your vehicle is back at our garage, we'll conduct a thorough investigation into the problems which led to the breakdown – with your consent, we'll carry out repairs to make sure it does not happen again!
Ivinson Autos: #1 for breakdown recovery in York
7B Centurion Park, Centurion Way,
Clifton Moor, York, YO30 4WW
Opening Hours:
Monday: 8am - 5pm
Tuesday: 8am - 5pm
Wednesday: 8am - 5pm
Thursday: 8am - 5pm
Friday: 8am - 5pm
Saturday & Sunday: Closed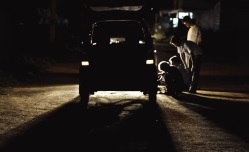 © Ahmed Mayin Fayaz on Flickr